TOP 10 ROMANCE ANIME OF 2017
2017 is over but for some anime fans who doesn't like to wait episode every week in every season it's their time to binge-watch the last year's awesome series without cliffhanger. If you are looking for titles to binge-watch from last year's line up as the winter season anime is airing, you have come to the right place. In this list I listed up the TOP 10 ANIME under the ROMANCE genre. If you are in the mood to feel in love or just want to feel some fluffiness because you are single, this list if intended for you SHOUJO ANIME LOVERS!
1. BLEND S
Synopsis: High school girl Maika Sakuranomiya has trouble finding a part-time job because of how scary she looks when smiling. However, she is scouted one day by an Italian man who is also the manager of Stile, a café where its waitresses are given unique traits such as tsundere and younger sister. Maika is given a sadist trait because of her looks and has to adopt a dominant and cruel persona when servicing customers, particularly masochist ones.
Smile, Sweet, Sister, Sadistic, Surprise, Service! That's was the first line of one catchiest anime opening theme from Fall 2017 line-up. Blend S was based on a 4-koma manga. With just 12 episodes, the series will make you laugh with it's consistent humor and character-driven antics. It doesn't depic any solid plot. Every character is lovable. Blend S is a refreshing series, it didn't show too much romance, you will still feel the chemistry with the couples of the series
2. FUKEMENKEI NOISE
Synopsis
: Every day, a young girl wearing a mask stands by the beach and sings a nostalgic melody. After experiencing two sudden heart-wrenching partings when she was only a child, Nino Arisugawa has been singing her songs to the ocean, bound by a promise made with her two childhood friends—her first love, Momo Sakaki, and a boy who composed music, Kanade "Yuzu" Yuzuriha. Having never met each other, the boys both individually promised that if Nino was ever separated from them, her voice would be the beacon to reunite them once again.
-
Another 12 episode series adapted from the manga with same title by Fukuyama Ryoko, Fukemenkei Noise or Anonymous Noise features a love triangle between Nino also known as Alice, Momo and Yuzu. Nobody wants a triangle because it's painful, someone will get hurt at end, though as the anime is airing and the manga is still ongoing the series is still worth watching.
3. OUR LOVE HAS ALWAYS BEEN 10 CENTIMETERS APART
Synopsis: Under the cherry blossom tree during Sakuragaoka High School's Entrance Ceremony, Miou Aida meets Haruki Serizawa for the first time. Ever since that day, their eyes chased after each other. Miou is reserved, while Haruki is very social. While many mistook them as a couple, their relationship remained a little more than friends.

As they stop to sit on the steps of a deck on their walk home, Miou cannot help but ask, "Haruki...do you like anyone?" Haruki replies, "I do like someone ...what about you?"

Just 10 centimeters between their hands.

It's just 10 centimeters, but the distance remains...
-
One of the most anticipated romance anime last year, the series has only 6 episodes. If you have watched Zutto Mae kara Suki deshita.: Kokuhaku Jikkou Iinkai and Suki ni Naru Sono Shunkan wo.: Kokuhaku Jikkou Iinkai then you shouldn't miss this one too. You can either watch this first or any of the movies as they both happened in the same timeline, just focusing on different couple. The series is a dream come true to those who are fans of Honeyworks, their songs are very heartwarming. The story might be a bit cliche but the mini-series has a different unique vibe in it.


4. JUST BECAUSE!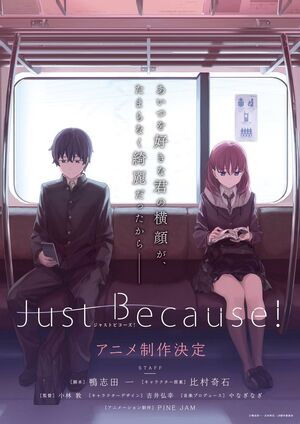 Synopsis: As another school year begins drawing to a close, the third-year high school students move steadily toward the next milestone of their lives: graduation. Among them are Mio Natsume, a girl burdened with lingering feelings; Hazuki Morikawa, a member of the concert band but distant from the others; and Haruto Souma, an athlete obsessed with baseball. Meanwhile, second-year student Ena Komiya seeks to revive the photography club to its former glory, refusing to let the organization be disbanded. Though this group lacks a strong connection with one another, their lives suddenly cross paths with the arrival of a third-year transfer student.

While a transfer so close to graduation is unusual for most, it is business as usual for Eita Izumi. Due to his father's work, he has never been able to stay in one place for very long. But as luck would have it, their most recent relocation has returned Eita to his hometown for his final semester of high school. For better or worse, it also sparks the rekindling of old relationships left behind in the past.

With graduation already causing its own share of anxieties, Eita's sudden arrival brings these students' carefree days to an abrupt end. Long-forgotten memories, deeply buried emotions, and inspiring new passions—everything is brought to light in their bittersweet final semester.

-

Slice of life, school drama, love triangle, Just Because has it all when it comes to school romance. I swear to write spoil-free reviews but Just Becuause! is my favorite last year, it keeps me hype because you can't find any materials that you can spoil yourself to since. It's very character-centric that's why you will always look forward every episode what will happen to each characters and couple. The way it was presented was a calm but not really. You be the judge. It depends on your preference if you will be satisfied with the ending, as for me, I am very satisfied!


5. KONBINI KARESHI

Synopsis: Six high school students' lives around the convenience store on their way from school; they talk about their lives and meet girls they end up falling for.
-
Konbini Kareshi is a slice of life and romance anime set in modern day Japan. Using the convience store as the point where the characters of the anime meet-up, bond, strike up friendship and romance. The overall story follows four characters; Haruki a honest and responsible high school freshman, Towa a bright and lively person that's the joker of the group, Mami a quiet but serious girl and Miharu a positive and kind girl that gets nervous easily. As the story goes by they will encounter events that will affect their relationships.
6. MAHOUTSOKAI NO YOME


Synopsis:
Hatori Chise is only 15, but she has lost far more than most. With neither family nor hope, it seems all doors are closed to her. But, a chance encounter began to turn the rusted wheels of fate. In her darkest hour, a mysterious magus appears before Chise, offering a chance she couldn't turn down. This magus who seems closer to demon than human, will he bring her the light she desperately seeks, or drown her in ever deeper shadows?
-
The Ancient Magus Bride has always been an awesome series even if it wasn't turned to anime yet. The unique story of Elias and the setting just gives the story its own identity. The animation is exquisite that even if you haven't read the manga yet, you will be drawn to the world where Elias and Chise lives.
7. MASAMUNE-KUN NO REVENGE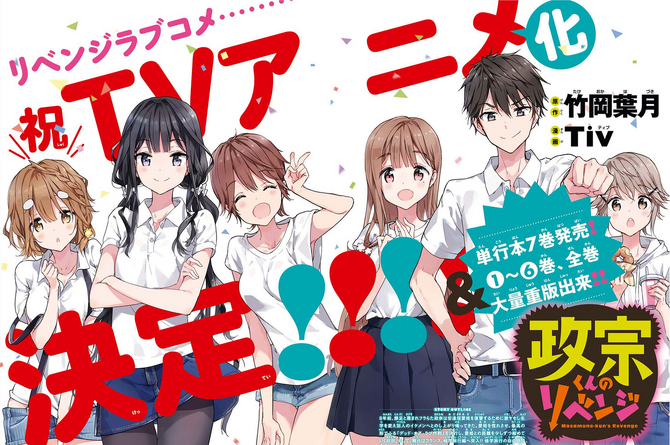 -

Base on the title itself, this shounen that also falls in the romance genre is about our main hero, Masamune-kun trying to set his revenge on his childhood sweetheart Adagaki. But what will really happen between the two? I dare you to watch!
8. NET-JUU NO SUSUME
Synopsis: Moriko Morioka is a 30-year-old single NEET woman. After dropping out from reality, she has taken off in search for a fulfilling life and ended up in a net game or "netoge." In the netoge world, she began her new life as a refreshing and handsome character named Hayashi. While starting out as a beginner, a pretty character named Lily reached out to help her. Meanwhile, in the real world, awaits a shocking encounter with a good-looking elite company employee, a mysterious blue-eyed blonde.

-
Net-juu no Susume tells the story of Morioka Moriko, a 30-year-old woman who is a self-proclaimed NEET. Very exhausted with real life stuff, she resigned because she couldn't stand her working conditions. She decided to start a netoge titled "Fruits de Mer" which is a RPG-fantasy universe in which she'll meet many people. In the game, she plays with a male character named Hayashi. She meets Lily, a girl, , and gets closer and closer to her. Circumstance happen and Moriko accidentally meets Yuuta Sakurai and that's the start of the conflict of the story. What happens when reality is too harsh you seek salvation on online games? Net-juu no Susume is a very relatable series so if you want to know what happens after the accident meeting between Moriko-san and Sakurai-san head over to you anime subscription channels and binge-watched now.
9. TSUKI GA KIREI

Synopsis: With a new school year comes a new crowd of classmates, and for their final year of junior high, aspiring writer Kotarou Azumi and track team member Akane Mizuno end up in the same class. Though initially complete strangers, a few chance encounters stir an innocent desire within their hearts. A yearning gaze, a fluttering heart—the hallmarks of young love slip into their lives as fate brings their paths to a cross.

However, though love is patient and love is kind, Kotarou and Akane discover it is not always straightforward. Despite the comfort they find in each other's company, heartache and anxiety come hand in hand with pursuing the feelings in their hearts. With the uncertainty of how the other truly feels as well as the competing affections of those around them, the road ahead is unclear. Even so, under the shining light of a beautiful full moon, Kotarou gathers his courage to ask Akane a single question, one that forever changes their quiet relationship.

-

I'll rate this series a 10/10 with it comes to sweetness, you'll get diabetes. The story is just so simple yet very exceptional. When most of the romance series go to the roundabout troupe this is the straightforward one which is awesome. Straightforward but is not rush and characters are well-develop as well. I personally had a great time watching it, I hope you will too!.
Synopsis
: Young love-it takes many unique and fascinating forms that flourish as children begin to mature into adults. From being unable to confess to not knowing what real love actually feels like, various obstacles can arise when learning about romantic attraction for the first time. But underneath all that, young love is something truly beautiful to behold, leading to brand new experiences for those young and in love.
Tsurezure Children depicts various scenarios of young love coming to fruition, along with the struggles and joys that it entails.
-
Ah! Young love, indeed! Based on a 4-koma manga. The series is quite a diverse range of characters, which means it has a lot of character, some wasn't even shown on the anime. The series also shows different types of couple. You wouldn't expect how smooth and straightforward the story was despite how short every episode is. It's an all in one romance series, with character drama, humor, realism and of course, romance. This anime gave me more enough laughs last year.
------------------------------------------------------------------
So, that's it. If this list was helpful don't forget to comment your favorite title and couple below! See you next Top List!